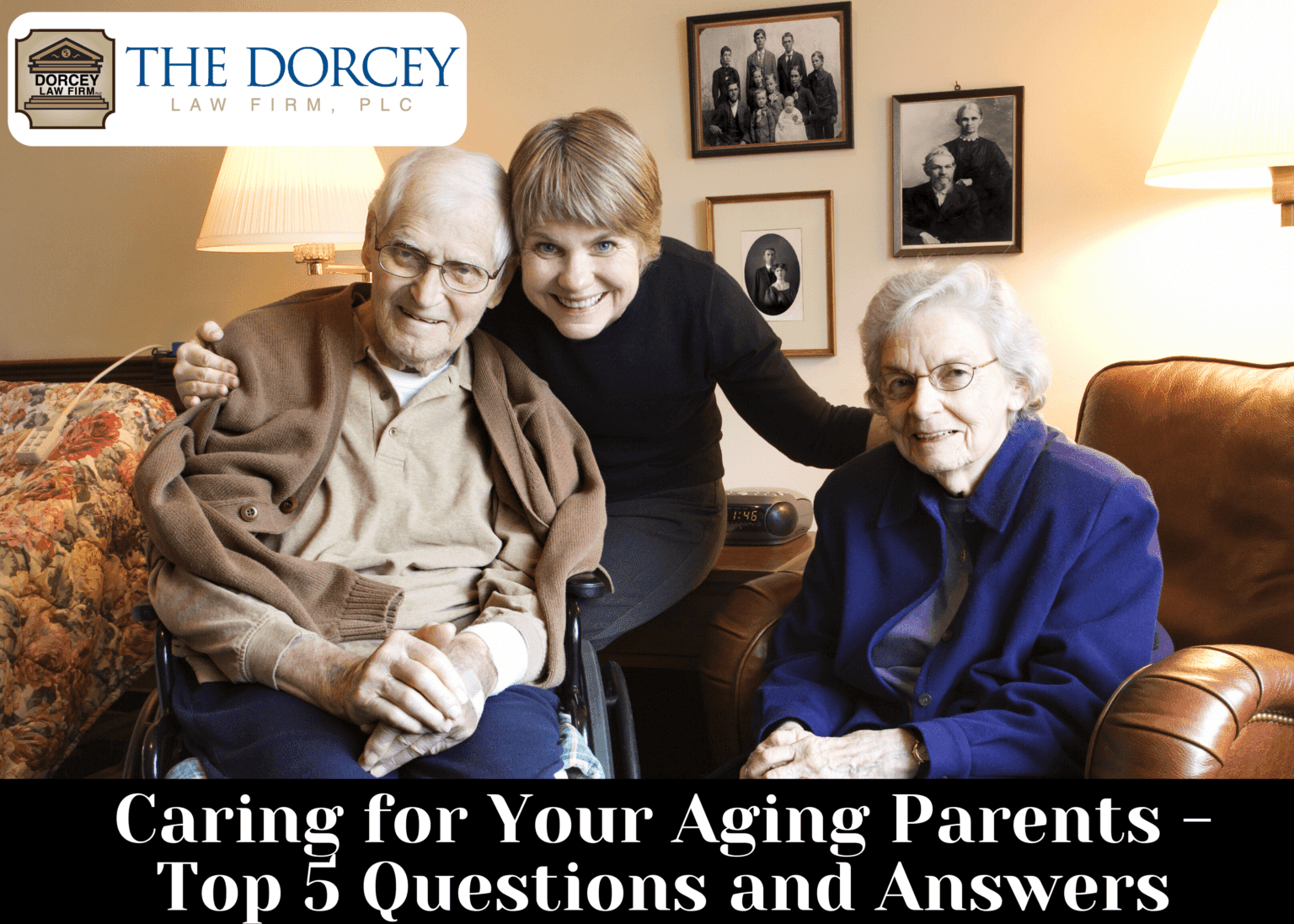 Caring for Your Aging Parents – Top 5 Questions and Answers: Caring for aging parents can be stressful. It's a new experience, and one that you're not always prepared for. The good news is that there are plenty of resources out there to help you navigate this new chapter in your life. To help get the process started, we've curated the top 5 questions that people have about caring for an aging loved one and have provided answers to those burning questions.
Question #1 – How do I ensure their legal affairs are in order?
No one likes to think about, much less talk, about the end of their lives. Unfortunately, burying your head in the sand can lead to costly and frustrating situations, once your loved one has passed. Of course, coming out and asking if your parents have an estate-plan in place may not be the most tactful approach. Consider these icebreakers to get a conversation started:
"Bob and I just met with our estate planning attorney last week to update our will. Do you and dad have an estate plan in place?"
"I was so troubled to hear that Uncle Harry passed and left Aunt Hilary with such a financial mess. Do you think you and mom have your affairs, so that doesn't happen to one of you?"
"We just sent Jenny off to college and our attorney recommended a HIPAA release and power of attorney, just in case something happens to her and we need to step in. Do you have a power of attorney?"
Question #2 – How can I gain access to their health information?
It's not uncommon for parents to withhold healthcare information from their children. This is often because they don't want to worry their adult children or grandchildren. It may also be because they don't want to admit that they have a serious healthcare issue. Sometimes, this lack of disclosure can lead to lapses in care.
If you believe you need access to your parents' medical records, you have a few options.
Go to the doctor with your parents. Ask questions.
Ask your parents to make you their personal representative for healthcare matters.
Ask your parents to request in writing that medical records be sent to you.
If your parent is incapacitated and unable to give consent, the healthcare provider may share personal healthcare information, if they believe that disclosure is in your parent's best interest.
Question #3 – Is it time to move them to a care home?
When the family home becomes unsafe for one or both of your aging parents, it may be time to consider some sort of alternative arrangement. Nursing homes are not the only alternatives, however. You might consider an incremental approach that includes things like:
In-home Care
Senior Daycare
Assisted Living Communities
Additional Dwelling Units
Discuss these options with your parents and other family members to determine what is best for the whole family.
Question #4 – Should they be driving?
Driving is one of the most important activities to one's independence. Losing the ability to drive is naturally one of aging people's top fears. Therefore, of course, you want to let them drive as long as it is safe for them to do so. Once reflexes begin to slow, flexibility declines, hearing levels decrease and peripheral vision narrows, it's time to start assessing the safety of their driving.
How do you assess their abilities? Take a drive with them. See how they do with highways, traffic, driving at night and during inclement weather. It may not be that they need to give up driving all at once. Perhaps night driving becomes a problem at first. If that's the case, ask them to agree to let you drive at night.
Question #5 – Am I partnering—or parenting my parents?
Often, when adult children are faced with caring for their parents, the go-to position is one of "parent." It may be one you're naturally disposed to, because you have children of your own. It could also be that you're simply mirroring the role your parents played with you. While natural, this may not be the best approach, because your parents may perceive this new scenario as you taking their independence from them.
Instead of dictating terms and telling them how it's going to be, reframe your roles from parent-child to partnership. Just because they may be lower on energy or losing memory function, doesn't mean they can't make decisions. Talk to them like the adults they are, making sure that each of you is maintaining boundaries and autonomy. You may find them more receptive to your help, which will make things much easier in the long run.
Resources:
The Healthy. "8 Questions You Must Ask to Keep Your Aging Parents Safe and Healthy" (Accessed November 29, 2019) https://www.thehealthy.com/healthcare/caregiving/questions-to-ask-your-aging-parents/
HHS.gov. "Under HIPAA, when can a family member of an individual access the individual's PHI from a health care provider or health plan?" (Accessed November 29, 2019) https://www.hhs.gov/hipaa/for-professionals/faq/2069/under-hipaa-when-can-a-family-member/index.html