The Dallas Morning News' recent article entitled "Three things to do on the death of a loved one" explains the steps you should take, if you are responsible for a family member's assets after they die.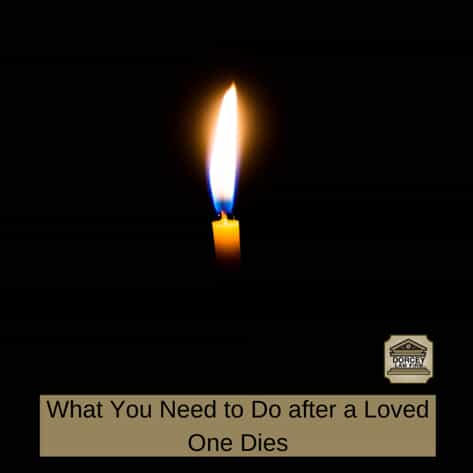 Be sure the property is secured. A deceased person's property becomes a risk in some instances. Friends and family will help themselves to what they think they should get, including the deceased's personal property. Once it is gone, it is hard to get it back and into the hands of the individual who's legally entitled to receive it.
Criminals also look at the obituaries, and while everyone is at the funeral or otherwise unoccupied, burglars can break into the house and steal property. Assign security or ask someone to stay at the house to protect the property. You can also change the locks. Credit cards, debit cards, and checks need to be protected. The deceased's mail must be collected, and cars should be locked up.
Make funeral plans. If you're lucky, the deceased left a written Appointment of Burial Agent with detailed instructions, which can make your job much easier.
For example, Texas law lets a person appoint an agent to be in charge of funeral arrangements and to describe the arrangements. An estate planning attorney can draft this document as part of an estate plan. You should see if this document was included. If you're listed as the agent, present the paper to the funeral home and follow the instructions. If there are no written instructions, the law will say who has the authority to make arrangements for the disposition of the body and to plan the funeral.
Talk to an experienced attorney. When a person dies, there is often a lapse in authority. The decedent's power of attorney is no longer in effect, and the executor designated in the will doesn't have any authority to act, until the will is admitted to probate and the executor is appointed by the probate judge and qualifies by taking the oath of office and filing a bond, if required. Direction is needed earlier rather than later, on what you're permitted to do. The probate of a will takes time.
It is best to get started promptly, so that there's an executor in place with power to handle the affairs of the decedent.
Reference: Dallas Morning News (April 10, 2020) "Three things to do on the death of a loved one"
It is our goal to provide our clients with the highest level of legal services in the areas of Last Will and Testaments, Living Trust, Irrevocable Trusts, Estate Planning, Probate, Asset Protection, and complete Business Planning. If you or someone you know needs information on Florida estate planning, please contact us today at 239-449-8191 to schedule your free consultation.