Next Avenue's recent article entitled "Is Your Estate as Planned As You Think?" explains that when you pass away your executor will have many tasks to perform when settling your estate.
It's helpful to add clarity and lessen the burden of that person's work in advance. Look at this list of things to make sure your estate is as planned as you think it is: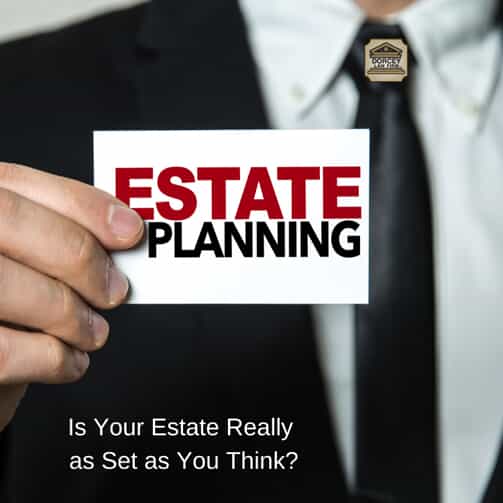 Is your will current? If you've written your will, how long has it been since you drafted it? Have there been any major changes in your life since that time? If so, it's likely time to update it. Review your will to make certain that it's an accurate representation of your assets and your wishes now.
Is your will detailed? Yes, you've addressed the big stuff, but what about smaller items with sentimental value? You should list who gets what, to avoid fighting.
Have you set out your wishes, so they're legally binding? Each state has different rules as to what is required for a valid will. Work with an experienced estate planning attorney to make sure your will is valid.
Are your financial affairs organized? Your executor will need to know if you have any recurring payments, as well as your account number, and online passwords. Create a list of regular monthly bills, along with your account numbers and access codes to simplify your executor's job.
You will also need to let the executor know about any automatic deductions or charges on your credit card, internet-based subscriptions, club memberships, recurring charitable donations and automatic utility payments.
Do you have a way to distribute your personal items? You should determine how your family will divide up the possessions not explicitly listed in your will, such as the lawnmower, dishes and photographs. All of it will need to be either distributed to one of your beneficiaries, donated, or sold.
Conducting comprehensive planning of your estate with an attorney can help ensure that there's less stress and an easy distribution of your assets.
While speaking with your estate planning attorney, ask about appointing a guardian for your minor children in your will, a healthcare directive, a living will, a HIPAA waiver and whether you should have a trust.
Reference: Next Avenue (Feb. 25, 2020) "Is Your Estate as Planned As You Think?"
It is our goal to provide our clients with the highest level of legal services in the areas of Last Will and Testaments, Living Trust, Irrevocable Trusts, Estate Planning, Probate, Asset Protection, and complete Business Planning. If you or someone you know needs information on Florida estate planning, please contact us today at 239-449-8191 to schedule your free consultation.