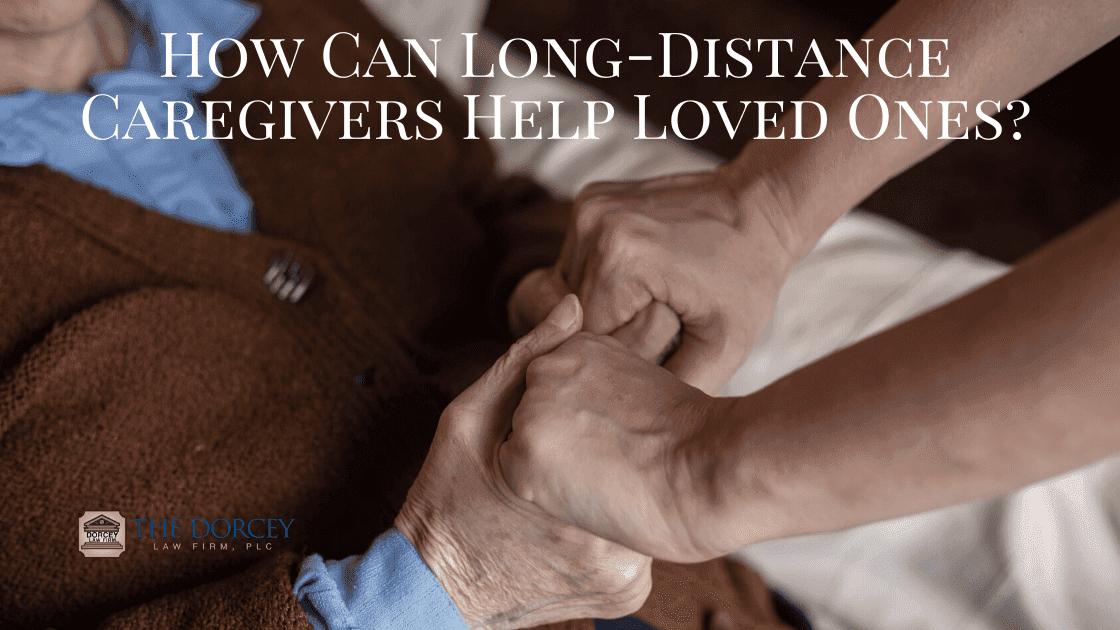 How Can Long-Distance Caregivers Help Loved Ones? A recent article noted that long-distance caregivers have the same concerns and pressures as local caregivers, perhaps even more. They spend about twice as much on caregiving as people caring for a loved one nearby, because they're more likely to need to hire help, take uncompensated time off work and pay for travel. A huge challenge for this group is just staying informed and assured that the person needing care is in good hands. As a result, long-distance caregivers must have good communication and a solid team on the ground.
AARP's recent article entitled "Long-Distance Caregiving: 5 Key Steps to Providing Care From Afar" provides us with five steps to staying informed and effective as a long-distance caregiver and thoughts for implementing the measures.
Be sure you have access to information. Having a means of receiving good information and possessing legal authority to make financial and health-care decisions is critical for all primary caregivers, but it's even greater for ones caring from a distance. Arrange as much as you can during an in-person visit.
Start the discussion on finances and map out with your loved one how to pay for health care and everyday expenses.
Ask whether your parent or other senior is able to sign the forms or make the calls necessary to give doctors, hospitals and insurers permission to share information with you or another trusted family member. This should include banks and utilities.
Be sure the senior has designated a durable power of attorney for health care and financial decisions.
Know what to do in an emergency, as far as access to the home by a neighbor, if needed.
Create your on-the-ground support team. Don't try to do it all, especially if your loved one has more serious or complicated health issues. In addition to healthcare professionals, ask friends, family and community groups to join a network of caregiving helpmates. Remember to add your loved one as part of the team.
Assign roles and tasks, that the members of the team are willing and able to do.
Create a list with contact info for everyone and keep it up to date.
Consider hiring a reputable caregiving professional. They're often called a geriatric care manager, aging life care manager, or eldercare navigator or coordinator. These professionals are frequently licensed nurses or social workers who can also be valuable mediators or sounding boards, when family members disagree on care decisions.
Verify the person's professional certifications, see how long the person has been in the field and request references.
Care managers can charge $50 to $200 an hour. Medicare doesn't cover this service, nor do most health insurance plans. However, if you can handle it financially, an experienced manager may be able to save your family time, money and stress with even a short call.
Find ways to communicate regularly with your local support group and loved one. You should leverage technology. With permission, place video monitors, wearable activity trackers, remote door locks to prevent wandering (if the care recipient has dementia) and even electronic pill dispensers that can tell you if someone has taken the prescribed medications.
Leverage your visits. Nothing's better than an in-person visit. When you can manage one, come with a list of things you need to know or discuss.
Interview possible home aides or house cleaners or meet with social workers or other professionals involved in your loved one's care to discuss any concerns.
Look for signs of abuse, which means monitoring your senior's checking account and see if there are any irregularities and look for red flags of physical or emotional mistreatment, like bruises, unexplained injuries, or a sudden change in personality. Note if your family member talks about a person you've never met who visits often and has been "very helpful."
Although you may have several practical tasks to tick off your list, it's important to spend quality time with your loved one. And seek the advice of a qualified elder law attorney, if you have any questions.
It is our goal to provide our clients with the highest level of legal services in the areas of Last Will and Testaments, Living Trust, Irrevocable Trusts, Estate Planning, Probate, Asset Protection, and complete Business Planning. If you or someone you know needs information on Florida estate planning, please contact us today at (239) 309-2870 to schedule your free consultation.
Reference: AARP (Oct. 30, 2019) "Long-Distance Caregiving: 5 Key Steps to Providing Care From Afar"